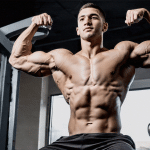 Full body vs upper lower vs ppl- Which is superior for muscle and strength gains?Find out..
My first ever training split was a full body split. This was not intentional, it just seemed natural to me.
I trained 5 times a week with mostly compound work such as benching and squats as well as light isolation work thrown in for good measure.
What I didn't know at the time was that I had the right idea…sort of.
Every one of my friends I would speak to who also went to the gym would say 'get on a 5-day split man, you've got to work each muscle with high reps'.
Behold I was introduced to the 'bro' split, and having a dedicated day to each muscle.
Obviously, I grew, as a novice lifter you can practically look at weights and grow provided you are stuffing your face with food and sleeping ok.
Needless to say, this honeymoon did not last and I had to wise up to keep making gains!
I was presented with three splits that claimed to best the infamous 'bro' split, but which one was superior?
Well, I am the man to tell you, as I have tried ALL three, with varying degrees of success. First I will give you a brief intro to each and explain their inner workings.
Full body training
Full body workouts are the simplest of the three, you work each muscle group in a give session. There are no divisions in exercise selection based on muscle groups. The characteristics of full body splits:
2-4x a week

frequency

Train every body part in a given session
Variation: The Classic full body split (3x per week)
Monday: Full body
Tuesday: off
Wednesday: Full body
Thursday: off
Friday: Full body
Saturday: off
Sunday: off (Repeat)
This set-up is commonly used with novice weight trainers as it allows ideal frequency (which I will discuss later) and is extremely simple to schedule.
Movements are usually altered workout to workout, e.g. Monday is bench day, and Wednesday is overhead press day. This allows different muscles to be emphasised whilst providing carry over to the core lifts and eliminating potential weaknesses/imbalances that might occur.
Variation: Modified full body split (2x per week) and (3-4x per week)
2x a week and 4x a week are great additional options for intermediate/advanced weight trainers who would like to either scale back on frequency to increase intensity/volume per session and vice versa.
Monday: off
Tuesday: Full body
Wednesday: off
Thursday: off
Friday: Full body
Saturday: off
Sunday: off (Repeat)
Week 1:
Monday: Full body
Tuesday: off
Wednesday: Full body
Thursday: off
Friday: Full body
Saturday: off
Sunday: Full body
Week 2:
Monday: off
Tuesday: Full body
Wednesday: off
Thursday: Full body
Friday: off
Saturday: Full body
Sunday: off (Repeat)
 Upper-lower training
Upper lower splits categorise each workout between upper body muscles and lower body muscles. They are still incredibly simple to program and can be done with a 1.5-2x a week frequency. To summarise:
1.5- 2x a week frequency
Exercise selection divided between upper body and lower body
Variation: The classic upper-lower split (4 x per week)
Monday: Upper
Tuesday: Lower
Wednesday: off
Thursday: off
Friday: Upper
Saturday: Lower
Sunday: off (repeat)
This set up is typically programmed for intermediate to advanced weight trainers but could still be used for novices with a few alterations made.
Upper body workouts typically consist of pushing and pulling movements such as OHP, bench press, rows. Whereas lower body workouts consist of squats, dead lifts and abdominal work.
Variation: Modified upper-lower split (3 x per week)
week 1:
Monday: Upper
Tuesday: off
Wednesday: Lower
Thursday: off
Friday: Upper
Saturday: off
Sunday: off
week 2:
Monday: Lower
Tuesday: off
Wednesday: Upper
Thursday: off
Friday: Lower
Saturday: off
Sunday: off (repeat)
This variation scales back the frequency slightly to 1.5 x a week per muscle, basically every 5th day which is still perfectly acceptable.
Some weeks you will do two upper sessions/one lower and others you will do two lower sessions/one upper.
Push pull legs training
Push pull legs categorises each session into push (chest, shoulders, triceps), pull (back, biceps) and legs (hamstrings, glutes, quadriceps)/abdominal and lower back work can be supplemented.
The frequency ranges from 1-2x a week per body part which is the least frequency of the two splits. To summarise:
1-2x a week frequency
categorised between pushing, pulling and leg movements
Variation: The classic push pull legs split (3x per week)
Monday: Push
Tuesday: off
Wednesday: Pull
Thursday: off
Friday: Legs
Saturday: off
Sunday: off (repeat)
This is essentially a condensed 'bro' split which only has a 1x a week frequency. This is can be used by groups of all training experiences.
 Variation: Modified PPL (4-5x per week)
week 1:
Monday: Push
Tuesday: Pull
Wednesday: off
Thursday: Legs
Friday: off
Saturday: Push
Sunday: Pull
week 2:
Monday: off
Tuesday: Legs
Wednesday: off
Thursday: Push
Friday: Pull
Saturday: off
Sunday: Legs
As you can see the frequency has been bumped up to around 2x a week per muscle group, which is far more ideal.
Essentially there is a 'rotating' effect whereby most weeks you will be doing 4 days a week and others you will end up with 5 training sessions in a week.
Frequency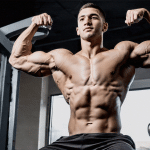 When choosing any training split, the first consideration should be how frequently you are going to be training.
Now, I am not talking about total training sessions per week, but the number of times each muscle group is individually being hit during the weekly cycle.
Why is frequency important? Well the more frequently you train, the more time your body spends in a state of elevated protein synthesis.
This is crucial for muscle growth as after the 24-48 hour window is over, protein synthesis returns to baseline levels and you are therefore not growing any muscle tissue.
Another consideration to make is the management of volume and intensity in relation to frequency.
Volume and intensity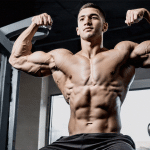 Volume is the driving tool behind the stimulus needed to grow and adapt to your training sessions.
If you do not have sufficient volume in your weekly training cycle (total number of repetitions performed), then you will not elicit a great enough training stimulus for your body to grow from.
Conversely, if you overdo total workload, then you will develop symptoms of overreaching and your performance will naturally decline until you can recover from the stress of the training load.
Training intensity is a crucial factor also in any training program. You must be working with high enough percentages of 1rm to increase absolute strength in the long run and improve neural efficiency.
Maxing out too often will drive total volume down and burn your central nervous system out which is obviously not optimal.
The interplay of both volume and intensity is crucial and directly impacted by your training frequency and split you choose.
Exercise selection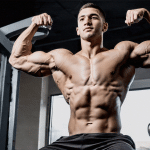 Your exercise selection will also be directly impacted by the split you choose.
A higher overall exercise selection is extremely beneficial, not because of the 'muscle confusion' principle but the potential to eliminate any weaknesses you may have.
The more times you workout per week, the lower your exercise selection will need to be session to session so that you can recover efficiently and get enough total workload in. 
You will want to ensure that you are varying the exercises workout to workout once you are beyond the novice phase to ensure you avoid the biological law of accommodation.
This style of periodization is known as concurrent/conjugate and my personal preference. You could also keep exercises the same but vary your intensity/volume (reps and weight) throughout the training cycle via linear periodization.
Ranking the splits from least effective to most
#3rd Place: Push pull legs
Out of the three choices, ppl is the least optimal by far. This isn't to say you won't get results from doing it but you are leaving gains on the table in my opinion.
pros:
If doing the 4-5x a week variant, you are getting more frequency than a 'bro' split which is great and ideal for muscle growth.
You can spend more time in the gym, if that is your preference.
Shorter workouts (30-45 mins). If you can only manage to get a workout in during a break then this is great as it allows you to get in and out.
cons:
The least amount of potential frequency of the three. If you do the regular ppl at 3x a week, then you are seriously shortchanging your progress.
In order to get the same 2x a week frequency as a full body split, you need to train more than twice as many days. 5 days a week can be very time consuming if you have a life other than the gym.
Harder to manage volume/intensity over the weekly training cycle. It is much easier to consequently 'overreach' and burn yourself out if you do not spread volume adequately.
Missing a workout or two can set you back to 1x a week frequency and effect long term progress if it becomes a regular occurrence.
In my opinion, this option is reserved for those who prefer to workout as often as possible, and don't mind sacrificing 'optimal' for 'good enough'.
Remember adherence is important too, if you progress and enjoy this split then power to you!
#2nd Place: Upper-lower
The upper lower split is a great option and closely follows in second. It provides the right amount of frequency and divides muscles more appropriately for the sake of exercise selection.
Pros:
Good frequency.
Muscle groups categorised better, allowing for more appropriate grouping of exercises.
Easier to manage volume/intensity than ppl.
Easy to schedule. If you miss a session then you can just push it back and it won't affect your frequency too drastically.
Cons:
The only negative is, in my opinion, the fact that muscle groups should not be divided. There will always be overlap and therefore recovery is not perfectly optimal.
Upper lower is a great choice and a split I personally recommend, the frequency is good and it is very easy to program using this template.
#1st Place: Full body
Full body training is THE way to train, without being dogmatic I believe 100% that you will see the most optimal gains with this setup.
Full body splits provide perfect frequency, easy management of volume/intensity and excellent recovery.
Pros:
Excellent frequency. You get a 2x a week frequency per body part from training ONLY TWICE A WEEK which is the equivalent of having to train 5x a week with ppl. You can also increase the frequency to 3-4 x a week per muscle group which is extremely versatile.
Awesome recovery that is unmatched. We know that recovery is essential for drug-free lifters as we have limited work capacity, so by having an extra 5 days to recover whilst keeping a 2x a week frequency is great.
Volume/intensity is FAR easier to manage/maintain as you are only working out 2-4 times a week. This makes it far less likely that you will screw up recovery.
Full body workouts are incredibly flexible. have a business? have kids you need to raise? a wife you need to pay attention to? GREAT, you can schedule your workouts around your life, not the other way around.
Cons:
In my honest and unbiased opinion, there is none.
Take the information I have presented here to you and make an informed decision for yourself.
Bottom line
Frequency is key to deciding which split most fits your life and work schedule.
I cannot praise Full body workouts enough, they have revolutionised my training and provided me with the best results by far!
Please leave a comment and check out my other articles on muscle building below: